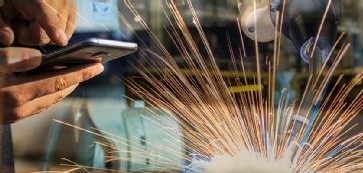 Internet of things to put cloud in the shade for Industry 4.0
Research by global mobile satellite communications provider Inmarsat has revealed the increasing importance of internet of things (IoT) in industrial applications, predicting that investment in IoT is set to overtake cloud computing, next generation security, big data analytics and other digital transformation technologies in the near future.
The report, Industrial IoT in the time of Covid-19, drew 450 global respondents across the agriculture, electrical utilities, mining, oil and gas, and transport and logistics sectors in early 2021, a year after the start of the pandemic. Respondents from businesses with at least 250 employees from the Americas, Europe, the Middle East and Africa, and Asia-Pacific responsible for delivering IoT initiatives at their respective organisations were also surveyed.
In all, the report showed that IoT has reached a high level of maturity across most organisations, with businesses across all industry sectors now planning to spend an average of $2.8m on their IoT investments through to 2024. While IoT accounted for an average of 7% of an organisation's IT budget between 2017 and 2020, businesses are planning to spend 10% of their IT budgets on IoT projects over the next three years.
Respondents reported plans to invest the greatest proportion of their IT budget on IoT projects over the next three years. They plan to spend on average a 10th of their IT budgets on IoT projects over the next three years – a 3% increase from the period of 2017-2020.
Planned investments in IoT are notably higher than those earmarked for other Industry 4.0 technologies, including cloud computing (9.0%), next generation security (7.5%), big data analytics (7.3%), robotics (5.3%), machine learning (4.8%) and virtual reality (4.3%).
In addition to receiving more investment than other technologies vying for IT budgets, the research also suggested that the mainstream adoption of IoT is already making a significant difference in terms of operational cost-savings to many organisations. It noted that on average, respondents reported that IoT projects currently save their organisations 9% of their yearly costs. In the future, respondents expect to achieve an average of 15% cost-savings in 12 months' time, rising to 22% in three years and 30% in five years' time.
Interestingly, the report threw up noticeable variations in the planned levels of IoT investments between different industry sectors. Oil and gas firms intend to invest the most in IoT over the next three years (an average of $3.2m), followed by electrical utilities companies ($3.1m), transport and logistics businesses (£3m), mining operators ($2.7m) and, finally, agricultural businesses ($2m).
Source: Computer Weekly